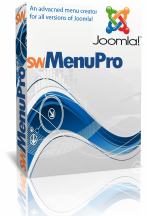 Version 10 just released.  This simple and point and click interface for menu creation makes it easy for anyone to make great menu systems in Joomla fast. 
Create any number of the following menu systems
4 popout or drop down menu systems (pure CSS3, myGosu, trans, and superfish)
3 Vertical accordion menu systems(Multi Level accordion, Dynamic drive accordion and a combination accordion transmenu)
2 Tree menu systems(HTML treeview, DHTML Dtree)
2 New special menu systems (supertab menu, multicolumn menu) 
The latest swMenuPro also includes the following features:
Pure CSS3 menu has many options for a responsive fallback menu on narrow devices
New menu systems have a completely upgraded editing interface to include CSS3 features like gradients, shadows, slides etc...
Rounded corner assignment for any corner in the menu
Cufon fonts for applying true type fonts to menus
Individual CSS assignment for any menu item in any menu module
Images assignment for any menu item within any menu module
Custom HTML assignment for any menu item within any menu module
Export and Import styles between sites and versions of Joomla.
swMenuPro is a complete menu module management system that integrates into Joomla open source content management system .

swMenuPro has been available for nearly 10 years to the Joomla community and is used on literally tens of thousands of sites.  Find out more or make a purchase using the links below.